The EverLearner

- Experts in PE Teaching
"The quality and quantity of work on this website for the students is amazing... We have seen a direct correlation at KS4 between engagement with the site and success in the theory exam." Head of PE, Corfe Hills School (via Google reviews)
"We have subscribed to The EverLearner for a number of years and it has become a really valuable T&L resource contributing significantly to the success of our KS4/5 exam results in recent years." Head of PE, St John Henry at Newman Catholic School (via Google reviews)
"I am always extremely impressed with the professional service that is provided by The EverLearner and the prompt response to any queries that I have. I would highly recommend The EverLearner to every school." Head of Physical Education, Cranleigh Abu Dhabi (via Google reviews)
"The EverLearner is a brilliant educational tool that staff, students and parents all love. It is simple to use but highly beneficial. James and his team are amazing and the customer service is second to none - they couldn't do more to help." Head of PE, Wigston Academy (via Google reviews)
"An invaluable resource... James and the team offer fantastic levels of support and are always looking for ways to further develop their offering. The ideal tool for homework, class learning, revision and gap analysis. Very much recommend!" PE Teacher, Cecil Jones Academy (via Google reviews)
Overview
Back in 2014, James Simms, Founder of The EverLearner Ltd, creator of TheEverLearner.com (launched 2017) and ExamSimulator (launched 2021) began to realise that his experiences and, dare we say, talent, had a place in the world. James had developed a solid career as a teacher of PE specialising in academic teaching. Specifically, James had honed "the art of the explanation" of concepts to students as well as becoming highly skilled at course management. James recently said:
"Explaining things to students is the bread and butter of teaching but it's a skill that is not allowed to flourish enough in many schools. We tend not to see one another teach very often and this leads to a lack of feedback but also of role modelling."
James had begun to record his teaching as early as 2009, ten years into his career, and he eventually embarked on a substantial programme of recording all of his teaching in 2012.
"I began to realise that I was good at explaining things but also that students needed different degrees of repetition and pace when they listened to my explanations. As much as I loved being at the front of the class doing my thing, I realised there was another model that might increase student understanding."
At first, students were simply using James' videos on YouTube as a means of revision before tests and exams but, gradually, the videos became part of the learning cycle itself. James said:
"People might not realise but I wasn't just making A Level PE videos for a small class of Year 13s. I was Head of PE at the biggest Sixth Form College in the country and I had over 300 A Level PE students to work with. As a petri-dish, it was outstanding because the videos were viewed by lots and lots of real life students who were very honest in their feedback."
James quickly realised the potential for developing the idea to offer quality online PE lessons for even more students for a whole range of qualifications and exam boards. In 2014 he launched MyPEexam, and in 2016, MyPEexam became 'The EverLearner', providing students and teachers with access to thousands of episodes of the highest quality teaching of academic PE, combined with low and high-stakes quizzing, detailed question-level feedback and of course, in-depth analytics of student performance and progress. In addition to this, The EverLearner began to incorporate new curriculum areas such as Modern Foreign Languages, Science, History, Computer Science, English and more. View the subjects currently available with The EverLearner: Courses available at The EverLearner
In the early days, The EverLearner worked with around 370 schools. Today, over 950 schools and colleges subscribe to The EverLearner, helping in excess of 200,000 students with their learning every single day.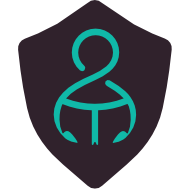 The EverLearner Concept
The business was created as an inevitable conclusion to a good concept, rather than as an intent to commercialise and make money, and this ethos remains firmly at the forefront today. The concept is that if all students have online access to the best teacher in the sector, on-demand. The classroom and the classroom teacher can become something else, provide a different focus and have the time to provide additional support where needed.
The business aims to drive and accelerate the transition to a self-paced and individualised learning experience where all students, regardless of background and socioeconomic status, can achieve mastery in their subject.
Using the Platform
The EverLearner team provides teachers with an opportunity to blend their analogue classroom with the very best of the internet, and in a highly-focused and specialised way. The service is not an alternative to a classroom but, rather, a service that provides teachers an alternative to the traditional classroom model. The aim would never be to replace the classroom teacher, simply to enhance their teaching.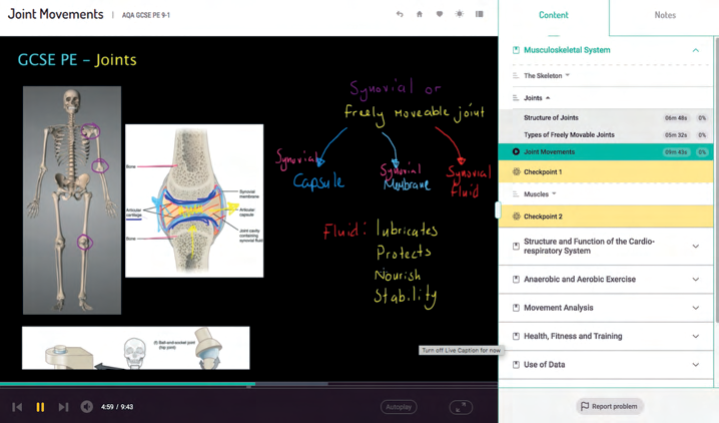 Many schools use the platform as a homework tool, allowing for truly personalised homework depending on each student's areas of strength and weakness - this is particularly easy to do due to the detailed analytics automatically provided by the platform. Each student can be assigned a different task with a simple click of a button.
Other teachers use the platform for flipped learning. Students watch the tutorials and complete short mastery quizzes at home and come to class ready to put their learning into practice, providing more classroom time for application and advanced skills, rather than simply the delivery of information. Crucially, this also allows all students to learn at their own pace - in class you cannot pause, rewind or replay your teacher!
Some also use it for blended learning within the classroom. Again the benefits come down to personalised learning and allowing students to learn at their own pace. The teacher can also know exactly what each student does and doesn't know simply by looking at the dashboard. This makes targeted intervention plans and additional support easy to implement, as well as the tracking of student progress.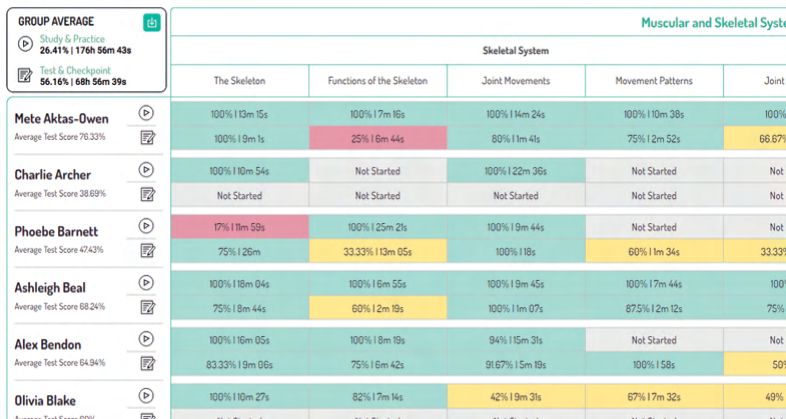 Key Stages and Quality Assurances
The platform currently caters specifically for KS4 and KS5 (GCSE, BTEC, VCERT, CTEC, Irish Leaving Certificate, A level), and offers over 4,500 lessons online – each lasting approximately 8 minutes in length. The lessons are exam-board specific (AQA, OCR, EdExcel, WJEC and Cambridge Nationals and Technicals) and regularly reviewed against the latest criteria to ensure they remain relevant and of the highest possible quality of teaching.
The work created by The EverLearner is fully BESA (British Educational Suppliers Association) accredited.
The EverLearner Subscribers
When the business was first established, The EverLearner worked with around 370 schools, predominantly based in the UK. In March 2020, all of the services were offered completely free to help students and teachers during the exceptionally challenging lockdown due to Coronavirus (Covid-19). This was achieved with the full backing of their paying customers and as a thank you for their support, these 'Founder Schools' now receive a lifetime discount on their subscriptions. Six months later, when The EverLearner re-commercialised, the number of schools choosing to stay with them had more than doubled, with many citing not only the quality of the resource as a reason for staying, but also the exceptional customer support provided. (Read the reviews)
Today, over 950 schools and colleges worldwide subscribe to The EverLearner, helping in excess of 200,000 students with their learning every single day.
View some case studies and testimonials from schools and colleges subscribing to The EverLearner. (Read the case studies)
The EverLearner Packages
If you're thinking of subscribing to The EverLearner, you can have a free trial for 28 days - book your free trial here: Free Trial
The team is also available for demonstrations of the platform – book a demo here: Book a demo with James
There are a number of different packages available, depending on the needs of the schools and colleges. Get in touch for a quote: Request a quote
ExamSimulator
In early 2021 the team launched the world's first ExamSimulator. On the main EverLearner platform, students can sit tests and end of unit tests (called checkpoints).
The revolutionary ExamSimulator however is different. It is an online exam setting, writing, marking and analytics environment. It is specifically focussed on exam-board content and skills for GCSE, A-level, BTEC, Cambridge National, Cambridge Technical and VCERT.
This game-changing exam software has been designed from the ground up by The EverLearner's team of teachers, for teachers and for their students. Based not only on sound pedagogy, but also on the vast classroom experience of the team working behind the scenes, ExamSimulator guarantees to boost student grades and save valuable teacher time. Read more about ExamSimulator.
About The EverLearner Team
The EverLearner team is made up of passionate teachers who have come together to make their dream a reality. The expert teaching team includes James Simms, Marta Soteras, Elle Houghton and Mark Mills and they are supported by Lead Administrator, Natasha Buck. Here's more on how they became involved in The EverLearner.
James originally set up the business in 2014 whilst still working as a full-time PE teacher and member of SLT. Soon after, he left his classroom teaching post to fully focus his efforts on developing the platform. In 2016, with growing user numbers and increasing workload demands, James welcomed his partner and fellow teacher Marta to the team, with her joining as co-director.
Marta and Elle first met when working at Yateley School as MFL teachers in 2011. They remained friends after Elle relocated to Southampton in 2015. In 2018, Elle, Marta and James attended a wedding of a mutual friend and whilst catching up, Elle discussed her desire for a change in career, seeking an education-based role that was both challenging and rewarding. James invited Elle to join the team as their lead French teacher just a few weeks later. Elle now works as a Business Manager (Customer).
In 2018, Mark found himself sharing The EverLearner resources from social media at his school's INSET day. Following some more in-depth research, he contacted the team to offer his subject expertise in Computer Science, and joined the team full-time in September 2019. Mark now works as a Business Manager (Product).
Read more about The EverLearner Team
If you are interested in getting involved with The EverLearner team, please contact:
Elle: elle@theeverlearner.com